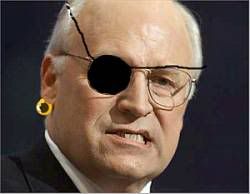 Trying to get a ticket to see VP Cheney @ Burlington County College
By Mitch
Posted on Wed Apr 13, 2005 at 05:18:03 PM EST
Late last night I learned that Vice President Dick Cheney is holding a Town Meeting on Social Security at Burlington County College on Friday. Courier Post Article
Last month, President Bush held a similar Social Security "open forum" in Westfield, where tickets were only distributed to a pre-approved list of supporters through the White House and through Congressman Ferguson's office.
I wanted to find out if this was more of the same, if Dick Cheney is also going to hand pick his audience, or if there was any possibility getting a ticket so I could ask some of the REAL QUESTIONS about the Social Security Plan.
First, I called Burlington County College to see if the event hosts had information about tickets for the Town Hall Meeting. I was told that the College has nothing to do with ticketing for the event. All that the operator at BCC knew was that it is a CLOSED EVENT that is strictly INVITE ONLY, great concept for an "open forum."
My next step was to contact the White House, surely the Vice President's office would be able to point me in the right direction. After being transferred around a few times, I reached the press desk of the Vice President where I was told that tickets are only available from a NJ Congressman.
I called Mike Ferguson (R-7) only to reach his voicemail in the middle of the work day. I guess he's too busy taking money from Tom Delay. So even though he's not my Representative, I decided to call Frank Pallone's (D-6) office. At the very least, I know they would take my call. I was told that only Republican members have tickets for this event. That doesn't seem very democratic. I understand the need for some degree of screening to make sure that the audience does not have any malicious characters trying to disrupt the forum, but isn't that the reason that we let our US Congressmen hand out the tickets? Pallone's office told me that they never get any tickets to events with Bush and Cheney. So how does a regular citizen like myself gain access to one of these Town Hall Open Forums?
Back to the phones, I gave Congressman Ferguson's Washington office a call, only to be redirected to the NJ office. Ring...Ring...Ring... Still no answer from Ferguson's NJ office. Well it is 4:30pm, maybe they closed up early today? Maybe this is an attempt to readdress the 40 hour work week? One more call into Ferguson's office at 4:40pm and someone finally picks up the phone... only to have no idea what I was talking about. "Wow, VP Cheney is coming to New Jersey on Friday! This is the first I've heard of it." I'm glad to know that communication flows viscously through the Republican party. Maybe this is why "Dump Mike" is catching on in NJ's 7th Congressional District.
My only other idea was to try to contact the Republican County Organization for Burlington County, with less than 10 minutes left in the work day, I've been told that Congressman Jim Saxton (R-3) is the only game in town for tickets to VP Cheney's Town Hall Meeting. After a snicker about calling their office at 5 minutes to 5:00pm, Congressman Saxton's representative took my name and address and told me that there are only 200 seats in the room and that Saxton's constituents would have first access to any tickets delivered to their offices tomorrow afternoon. She said she would cross her fingers for me and hope that I get a ticket to attend VP Cheney's open forum. I told her my story of searching around all day for the proper channel to get tickets and was told that Congressmen Smith and LoBiondo would also have tickets available for distribution tomorrow. My fingers will remain crossed through the night.