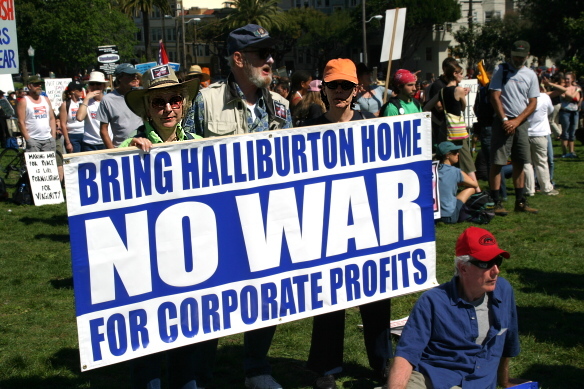 Army awards Balkans contract to Halliburton despite FBI probe
21 June 2005
WASHINGTON, June 21 (HalliburtonWatch.org) -- The U.S. Army on Tuesday awarded Halliburton a troop logistics contract for the Balkans despite an ongoing federal criminal probe into the legality of the company's existing Balkans contracts.
The Federal Bureau of Investigation (FBI) opened a probe last year into allegations by Bunnatine Greenhouse, a senior contracting specialist with the Army, who said Halliburton's troop logistics work in the Balkans was "out of control." The Army opened an investigation into her allegations last year.
Halliburton's KBR subsidiary, also known as Kellogg Brown & Root, is responsible for carrying out the Army's troop logistics work in the Balkans and elsewhere.
The nonpartisan auditing arm of Congress found in 1997 that KBR billed the Army for questionable expenses for work in the Balkans, including charges of $85.98 per sheet of plywood that cost $14.06. A follow-up report in 2000 found more inflated costs, including charges for cleaning offices up to four times a day.
Greenhouse said Army officials ignored these concerns when it renewed Halliburton's Balkans contract for another five years in 1999. She also said Tina Ballard, deputy assistant Army secretary for policy and procurement, was telephoned during a meeting and ordered to renew the contract for "political reasons."
The FBI is also investigating Greenhouse's allegation that the Army altered documents in order to legitimate Halliburton's contract work in the Balkans.
Greenhouse's attorney, Michael Kohn, is calling for an independent organization, outside of the Pentagon, to investigate charges of cronyism regarding Halliburton's contracts. "This needs to be done by an outside agency," he told the Associated Press last year. "From past experience, we are uncomfortable with the DOD-IG (the Pentagon's inspector general) handling this investigation by themselves." Kohn's concerns may be justified since a report from Rep. Henry Waxman (D-CA) found that President Bush has repeatedly appointed individuals with Republican political backgrounds to serve as nonpartisan inspectors general at federal departments and agencies.
Halliburton's new Balkans contract will last for up to five years and is valued at $1.25 billion.