Powell aide: Torture 'guidance' from VP
Former staff chief says Cheney's 'flexibility' helped lead to abuse
Sunday, November 20, 2005; Posted: 5:18 p.m. EST (22:18 GMT)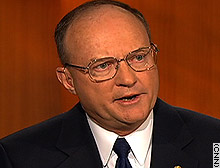 U.S. Army Col. Larry Wilkerson said he does not know "if the president was witting in this or not."
WASHINGTON (CNN) -- A former top State Department official said Sunday that Vice President Dick Cheney provided the "philosophical guidance" and "flexibility" that led to the torture of detainees in U.S. facilities.
Retired U.S. Army Col. Larry Wilkerson, who served as former Secretary of State Colin Powell's chief of staff, told CNN that the practice of torture may be continuing in U.S.-run facilities.
"There's no question in my mind that we did. There's no question in my mind that we may be still doing it," Wilkerson said on CNN's "Late Edition."
"There's no question in my mind where the philosophical guidance and the flexibility in order to do so originated -- in the vice president of the United States' office," he said. "His implementer in this case was [Defense Secretary] Donald Rumsfeld and the Defense Department."
At another point in the interview, Wilkerson said "the vice president had to cover this in order for it to happen and in order for Secretary Rumsfeld to feel as though he had freedom of action."
Traveling in Latin America earlier this month, President Bush defended U.S. treatment of prisoners, saying flatly, "We do not torture." (Full story)
Cheney has lobbied against a measure in Congress that would outlaw "cruel, inhuman and degrading treatment" of prisoners, calling for an exception for the CIA in cases that involve a detainee who may have knowledge of an imminent attack.
The amendment was included in a $491 billion Pentagon spending bill that declared 2006 to be "a period of significant transition" for Iraq. (Full story)
Proposed by Sen. John McCain, an Arizona Republican who was tortured as a prisoner of war in North Vietnam, the amendment was approved in the Senate last month by a 90-9 vote. It was not included in the House version of the bill.
The White House has said that Bush would likely veto the bill if McCain's language is included, calling the amendment "unnecessary and duplicative."
Rumsfeld told ABC's "This Week" on Sunday that the White House was in negotiations with the Senate over the amendment.
"There's a discussion and debate taking place as to what the implications might be and what is supportable and what is not," he told the program. "But the fact of the matter is the president from the outset has said that he required that there be humane treatment."
Cheney has come under mounting criticism for his position. Last week, Stansfield Turner, a military veteran who served as director of the CIA during the Carter administration, labeled him the "vice president for torture." (Full story)
In a statement responding to Turner's remark, Cheney said his views "are reflected in the administration's policy. Our country is at war and our government has an obligation to protect the American people from a brutal enemy that has declared war upon us."
"We are aggressively finding terrorists and bringing them to justice and anything we do within this effort is within the law," the statement said, adding that the United States "does not torture."
Rumsfeld denies 'cabal' charge
Bush administration officials, including Rumsfeld and military officials, have denied that instances of torture were ever officially condoned. Some personnel accused of torture have been convicted and sentenced for prisoner abuse.
"All the instructions I issued required humane treatment," Rumsfeld told ABC. "Anything that was done that was not humane has been prosecuted."
But Wilkerson argued last month in a speech that Cheney and Rumsfeld formed a cabal that "made decisions that the bureaucracy did not know were being made."
Wilkerson told CNN Sunday he does not know "if the president was witting in this or not."
"I voted for him twice," he said. "I prefer to think that he was not."
Earlier, on the same CNN program, Rumsfeld dismissed as "ridiculous" the claim that he was involved in a cabal.
Rumsfeld and Gen. Peter Pace, chairman of the Joint Chiefs of Staff, said they had no recollection of Wilkerson having attended meetings with Rumsfeld or Cheney.
"In terms of having first-hand information, I just can't imagine that he does," said Rumsfeld. "The allegation is ridiculous."
"I was in every meeting with the joint chiefs. I was in every meeting with the combatant commanders. I went to the White House multiple times to meet with the National Security Council and with the president of the United States. I have never seen that colonel," added Pace.
"They made my point for me," responded Wilkerson. "The decisions were not made in the principals' process, in the deputies' process, in the policy coordinating committee process. They were not made in the statutory process."
Wilkerson said his "insights" came from Powell "walking through my door in April or March of 2004 and telling me to get everything I could get my hands on with regard to the detainee abuse issue -- ICRC [International Committee of the Red Cross] reporting, memoranda, open-source information and so forth -- so that I could build some kind of story, some kind of audit trail so we could understand the chronology and we can understand how it developed."
While he acknowledged having no proof that the United States is torturing detainees, Wilkerson said, "I can only assume that, when the vice president of the United States lobbies the Congress on behalf of cruel and unusual punishment and the need to be able to do that in order to get information out of potential terrorists... that it's still going on."
He said U.S. officials should realize they are involved in "a war of ideas" that cannot be advanced with torture.
"In a war of ideas, you cannot damage your own ideas, your own position by seeming to do things that are in contradiction of your values," he said.
Rumsfeld told ABC that the military has "overwhelmingly treated people humanely."
"The history of the United States military is clear. Torture doesn't work. The military knows that. We want our people treated humanely," he said.